Several F1 news thundered into the lead very quickly before the start of the Dutch Grand Prix! The decisions that were waiting for Italy suddenly crashed into the feeds on Thursday! Where is Kimi Raikkonen going in 2022, what is Antonio Giovinazzi waiting for, what does George Russell know, what Lewis Hamilton is unhappy with and what Valtteri Bottas is silent about? Here we are!
Formula 1 latest news ahead of the 2021 Dutch Grand Prix
Kimi Raikkonen retirement 2021
With this decision, the Alfa Romeo driver planned to reach the next stage of Formula 1 in Monza. But something went wrong and like a bolt from the blue, Kimi Raikkonen announced his retirement on the eve of the Dutch Grand Prix. As it turned out, the decision had already been made last year. According to official F1 news, there are no complaints, everything is going according to plan. He will hang up his helmet and gloves to experience and enjoy much more in life.
"This is it. This will be my last season in Formula 1. This is a decision I did during last winter. It was not an easy decision but after this season it is time for new things". – K. Raikkonen on Instagram
The former world champion, who won his first and only drivers "title with Ferrari in 2007, has spent the last three years with Alfa Romeo. Although, with the 41-year-old Finn, an entire era is coming to an end, because 20 years in Formula One and his special charisma have made Kimi Raikkonen an unforgettable and unique old-school driver. Formula 1 fans are not ready to say goodbye and are very sad about it.
---
Antonio Giovinazzi is waiting.
More rubble, less trouble. After such a sudden decision, the future of Formula 1 was in jeopardy for Kimi Raikkonen's team-mate Antonio Giovinazzi. And why – one wonders? The fact is that a month ago someone in the paddock leaked that a planned personnel replacement was imminent. Strategically, Alfa Romeo should completely change the driver line-up by the 2022 season. Formula E World Champion Nyck de Vries and current Mercedes driver Valtteri Bottas will take their seats at Alfa Romeo – that's the plan! Since the first part of the prophecy has come true, it means that it is Giovinazzi's turn. Antonio does not lose hope, but claims that nothing depends on him here.
"It's clear – to convince Fred I need to still go faster, bring home some good results. Then it's Fred's decision" – A. Giovinazzi
What does George Russell know and what doesn't?
Until F1 Mercedes boss Toto Wolff's official announcement, everyone in the team is silent, so both Valtteri Bottas and George Russell have no news to share. Although Russell admits that he already knows which team he will be driving for in the 2022 season.Is this an attempt to inflame the already burning atmosphere or is it another reason to explain? It's easy to notice a smile on Russell's face, George is very happy. It is unlikely that he would be happy if he knew about continuing to race for Williams in 2022, meaning that he will be in the Mercedes team alongside Lewis Hamilton.
"The truth is there's nothing to announce but I'm aware of the situation of where I'll be racing next year," – G. Russell, Thursday's press conference at the Dutch GP.
It is noteworthy that Toto Wolff is also heating up the intrigued as there will be no rush to make an official statement until all the drivers "issues are resolved.
"We just need to manage the situation well, with whoever driver is not going to be in a Mercedes next year, and make sure there is an exciting programme, and on the other side manage the situation internally like we've always had."– Toto Wolff
Lewis Hamilton unhappy.
Although it doesn't look like an official F1 news item and looks more like a rumor, it is claimed that Mercedes driver is not happy that George Russell will be his teammate. On the other hand, it is no secret that Hamilton has been very supportive of Bottas of late.
"Toto made the decision to choose George. Lewis heard it and is not happy about it. He wanted Valtteri as a teammate because he is fast but not fast enough to be a danger to him." – The Daily Mail,
Interestingly, Lewis Hamilton changed team-mates time and time again throughout his Formula 1 career. For example, he raced for McLaren for one year in 2007 with Fernando Alonso, then with Heikki Kovalainen from 2008 to 2009. Lewis Hamilton raced with Jenson Button for three years from 2010 to 2012 in Mclaren. No easy relationship with Nico Rosberg as a teammate in Mercedes lasted for four years from 2013 to 2016. Valtteri Bottas ended this statistic by five years of partnership: 2017 to 2021.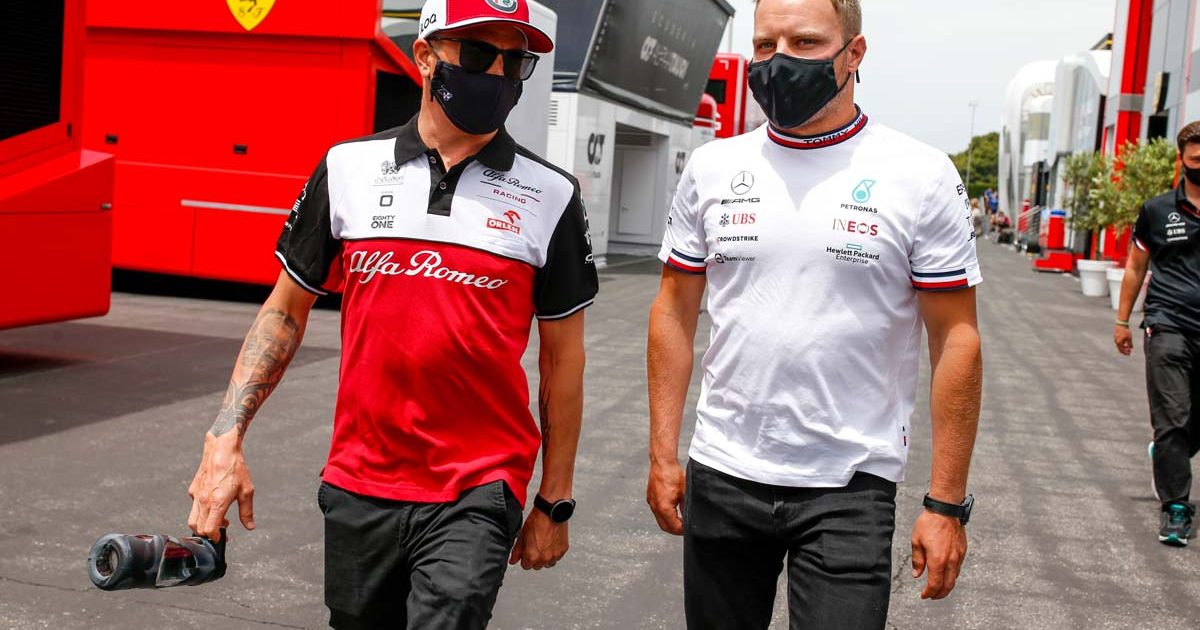 What Valtteri Bottas does not say?
Valtteri Bottas comes across in every situation as a person who loses in any way. To stay with Mercedes, people already know that he is the weak link alongside Lewis Hamilton. The option to change the team is too late for the moment. Considering that Valtteri Bottas has set the goal of staying in Formula One in 2022, he does not have much choice to join. Oddly enough, George Russell wanted to take Mercedes seat a long time ago, but Bottas has waited too long to make a decision on his future. Currently, Alfa Romeo and Williams are just two teams with vacancies for the 2022 Formula One season.
Indeed, stopping to await the decision of the others could play a key role in Bottas' future. Red Bull is therefore talked about alternatives to Sergio Perez as a replacement. In our subjective opinion, this was a political move, a small hint to the Mercedes driver. Why else change an already capable driver who is inferior to Max Verstappen a bit? Without a doubt, a move to Red Bull for Bottas would look like a betrayal of the current team, but it would be more productive for his personal career in Formula One. Red Bull have reportedly already ticked the question off and signed a Mexican driver for next year.
The Dutch Grand Prix will be the starting point for many of the following F1 news. It makes no sense to hide what people have already suggested. Undoubtedly, Netherlands race will be full of surprises.