The fourth round of the FIA WEC will begin on Saturday 21 August at the Circuit de la Sarthe, the event of the year that will captivate millions of racing fans from all over the world and is not to be missed. Here are ways where to watch 24 Hours of Le Mans 2021.
The 24 Hours of Le Mans will be available to watch on television or in the official FIA WEC app. Let's delve deeper into the details and geo-features of the broadcasts.
OFFICIAL FIA WEC APP
The official FIA WEC® app is available in both English and French. The menu is available in French, English, Japanese, Chinese, Italian, Portuguese, Spanish and Arabic.
Free livestream.
The FIA World Endurance Championship App is the premier platform for getting the latest Le Mans news. It includes leaderboards, tracks, teams, drivers, times, schedules, photos, videos, interviews, highlights, race results and social media coverage. Live coverage and updates for fans around the world, but geoblocked in the US and Canada.
Paid livestream.
For an enhanced FIA WEC experience, fans can purchase the Premium Season Pack, which is available within the app. Premium users can watch FIA WEC races live, watch exclusive content filmed by on-board cameras, customize features and track their favorite drivers and teams, and have access to all replays of each race.
The app offers English commentary on its live coverage and official WEC highlights shows, with endurance world champion Allan McNish sharing his expert insights. McNish will be supported by an expanded Le Mans commentary team that includes Martin Haven, Graham Goodwin, Darren Turner, Oliver Gavin and David Addison. Meanwhile, Louise Beckett and Duncan Vincent will support the team from the pit lane.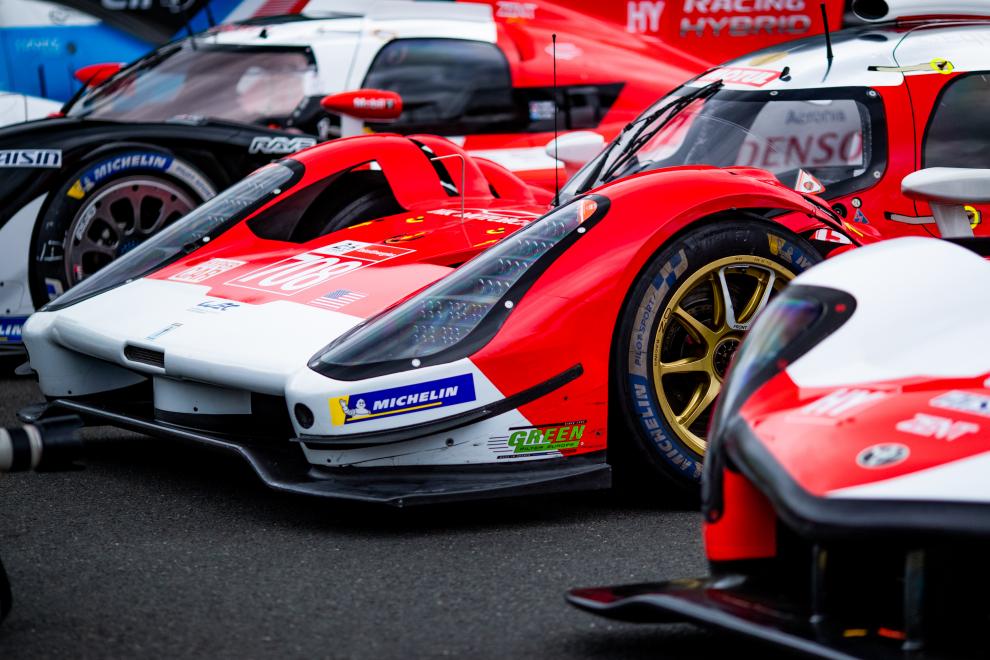 To watch 24 Hours of Le Mans on Television
REST OF WORLD
Fox Sports will show the race live in South America, while MotorTrend will broadcast the entire race in the USA, with Velocity and Discovery taking over most of the 24 hours in Canada.
In Asia, J Sports in Japan and Tencent in China will provide full coverage.
SuperSport is the channel in Africa that broadcasts the complete race scheduled live on its channels.
After all, Eurosport also has a supra-regional offer throughout Asia.
View the full broadcasting schedule HERE.
EUROPE ZONE
The French TV channel La chaine L'Equipe will broadcast the 24 Hours of Le Mans. The race will be broadcast live on La chaine L'Equipe starting at 13h30 local time on Saturday until 18h45. Then again from 21h10 to 02h00. Coverage will continue on Sunday from 06h00 to 17h30.
The entire race will also be broadcast live on Eurosport across Europe including France, Germany and the UK. Qualifying will be shown on Wednesday 18th August from 6.45 pm CEST / 5.45 pm CEST to 8.10 pm CEST / 7.10 pm CEST..
On Thursday, August 19th, spectators will be able to watch Free Practice 3 from 13.50 to 17.10, Hyperpole from 20.50 to 21.45 and Free Practice 4 from 21.45 to 00h10. On Saturday, August 21st, the warm-up will start from 9.15 to 10.00.
Elsewhere, several other channels will broadcast the race live including TV2 Denmark, RTL Nitro in Germany, RTL in the Netherlands and ViaSat Sport in Scandinavia.
---
24 Hours of Le Mans 2021 schedule, start on 21 August!
24 Hours of Le Mans note, the story of racing