Is Valtteri Bottas leaving Mercedes or will he save the place beyond 2021? This question has been making headlines for months after George Russell made his debut for Mercedes # 44 at last year's Sakhir Grand Prix. Williams F1 driver G. Russell, for his part, has received a lot of press coverage, because the absent party's fate is great. What is of all this speculation and rumor, and what is the truth? Let's see what scenario is obvious for Mercedes F1 team?
Where did the rumors about Valtteri Bottas' out come from?
It is hard to call Sky Sports a gossip source, but their Italian editors are sure that the decision has already been made at Mercedes. They have relied on their own sources, the Brackley team has decided not to renew the contract with the Finnish driver, in the expectation that George Russell will replace Bottas in 2022. Moreover, some journalists suggest that such a replacement will come later in 2021 and that the young Russell will take over from Bottas in the second half of the 2021 Formula One season. F1-Insider have gone even further, saying Mercedes Amg Petronas F1 team boss Toto Wolff had already informed Russell's manager of the decision.
Word travels fast.
Although we're not ready to accept at these face value. Thus, here is what Red Bull advisor Helmut Marko has a clear opinion about it.
"It would be the logical step,"
"You can't keep him on a leash any longer. Otherwise the sponsorship doesn't make sense anymore. Even if Hamilton won't be happy about it." Helmut Marko to German SPORT1
Helmut Marko let it be known beforehand that Bottas does not have to call him:
"There is no place there. I can actually only imagine a swap with Russell. I think Williams will be the only option for him."
The logical step of Mercedes Amg F1 team
Valtteri Bottas' bad luck
It is hard to say when it started. Although, when George Russell took the place in Lewis Hamilton's car, F1 fans and team bosses had something to compare. Conclusions were drawn then, too, but the logical conclusion is now coming, and George Russell has nothing in common with it.
Today, after the disastrous race in Monaco and the absolute defeat at the F1 Baku Grand Prix, Valtteri Bottas has no words to explain his pace, and that is the root of the evil. If the Finn had given the public a clear reason why his Mercedes F1 car was lagging behind, he would not have heard so much criticism on his part. Logically, if you have no pace and no reason why it happens, then you are the main reason.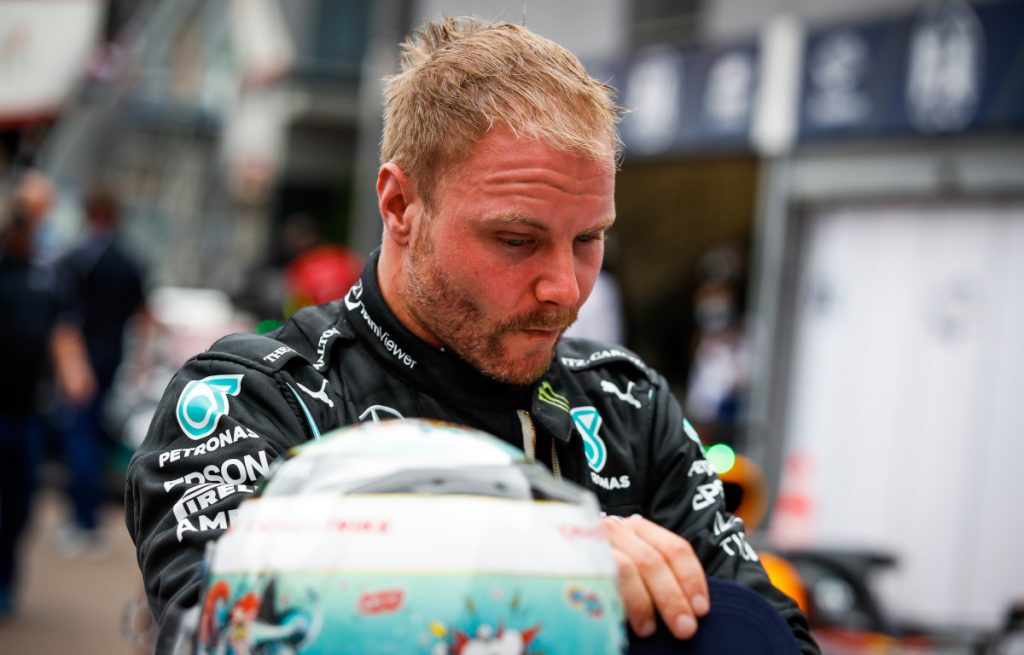 "I can't remember this kind of weekend,"
"There have been weekends when I've had bad sessions, but always at some point I've had the pace. But last weekend it was all the time, and during the weekend I haven't understood what was wrong.
"I know myself when there's the limit and I can't go faster and then you're still six, seven, eight-tenths behind. It's not normal. It's something we need to understand before going to France.
"The main issue was lack of pace and just not being quick enough. Quite early in the race I could see I just didn't match the cars ahead – especially when one of the Aston Martins was ahead of me, I just couldn't keep up."
"I'm confused, it's really weird." –Valtteri Bottas after Baku GP on PlanetF1.com
Valtteri Bottas out at Mercedes after 2021?
The Mercedes F1 team adheres to an authoritarian style of leadership, but is not at all comparable to Red Bull, where no one has a second chance. Mercedes largely depends on the image it has created in the mass media. It would be a mistake to retire Valtteri Bottas now, even to voice such an idea aloud. However, there is a 70% chance that George Russell will replace Bottas for the 2022 Formula One season. We will argue logically.
1 Management. Toto Wolff is the manager of Valteri Bottas and George Russell. In his hands lies the fate of the young Williams driver. Mr. Wolff would probably have given up Russell's business a long time ago if there had not been the chance of a change.
2.George Russell is tired and ready for the following result. It is psychologically difficult to work in the conditions that the Williams F1 team stands for. George Russell is simply tired of dragging himself along at the end while he deserves to start at least on the second row. It is very difficult to stay motivated in these conditions. What seems to be a mundane everyday life for Bottas is an unprecedented luxury for Russell. Therefore, young George is now ready to accept any environment of Mercedes offers.
3. Adding fuel to the fire: The Williams F1 team, in which George Russell is a current driver, is cautiously making it clear that he will indeed leave after 2021, calling it a massive loss.
"It would be a massive loss, but I'm not sure it's something certainly that I've got great control over. If we could keep him, it would be fantastic, but we have to see how that pans out." Williams head of vehicle performance  Dave Robson to motorsport.com
If it were not for this possibility, there would be no comment: there is no smoke without fire. Since Russell is not considering any variants other than Mercedes, it is clear where he is going.
Valtteri Bottas, what's next?
According to Valtteri Bottas, he has not yet agreed on the details of his contract with Toto Wolff for next year. Officially, all negotiations for vacancies in Formula One begin in July, so the Finn still has two weeks to go. Helmut Marko's words are no coincidence, because when Valtteri Bottas leaves Mercedes after 2021, he can only sign the contract with the Williams F1 Team. The question is no longer whether Bottas will stay or go at Mercedes, but whether he will stay in Formula 1 after 2021!
So the countdown begins, exactly two weeks to prove all his prospects and abilities, so we will either see a completely new Bottas or we will know for sure that George Russell will be Lewis Hamilton's new team-mate for the F1 2022 season.
---
George Russell in Mercedes Formula 1 car: Did the mission fail?
The hellion nut or how Red Bull taught Mercedes Amg F1 team a lesson!
Valtteri Bottas' contract and bullying — why do people expect him to quit?